In the News
Subscribe to posts
Horror master jumped at request to write introduction for new, anniversary edition of Lord of the Flies, says publisher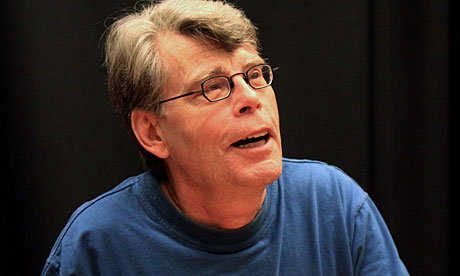 Stephen King's new introduction to William Golding's Lord of the Flies has been warmly received by publishers Faber & Faber. Photograph: Taylor Hill/FilmMagic
Both are famous for chronicling the darker side of adolescence, but where William Golding won a Nobel prize for his work, so far Stephen King has had to settle for bestsellerdom. Now King is writing a new introduction to Golding's seminal novel Lord of the Flies, as part of celebrations later this summer to mark 100 years since Golding's birth.
King rarely contributes introductions but, said publisher Faber & Faber, jumped at the chance to write one for Lord of the Flies when he was approached. The bestselling horror writer named Castle Rock, the fictional Maine town which features in many of his books, after the area that Jack makes his fort in Golding's novel, while a copy of Golding's book plays a role in King's novel Hearts in Atlantis.
"The dark powers of childhood are what King has been so interested in writing about," said Hannah Griffiths, who is publishing the book for Faber in August. "We only approached him because we knew he loved the book – writers like him must get 50 requests a day. [But] he was back on email really quickly and said 'I don't do a lot of these but this one I've got to do'."
King delivered his introduction ahead of deadline, and has written about how he first came across and read Lord of the Flies as well as giving his critical perspective on the novel. "It's quite autobiographical," said Griffiths, who described the introduction as "beyond my wildest dreams". There are "so many boring combos" of authors and introductions out there, she added, but King and Golding "is just the best combination of writers ever".
Faber hopes the new introduction, and a fresh look for the book, will send Lord of the Flies to the top of the book charts again, 57 years after it was first published in 1954. "We sell a lot of copies every year of Lord of the Flies [but] our goal in July is to make it a bestseller again," said Griffiths.
The publisher is also marking the centenary of Golding's birth with a new edition of his novel The Inheritors, with an introduction by John Carey, as well as a memoir by his daughter Judy Golding, The Children of Lovers, which is published in May. In addition, it will open its archives for a Golding exhibition this autumn.
guardian.co.uk © Guardian News and Media Limited 2011
The New York Times
January 7, 2011
Journal Showcases Dying Art of the Research Paper
SUDBURY, Mass. — William H. Fitzhugh, the cantankerous publisher of a journal that showcases high school research papers, sits at his computer in a cluttered office above a secondhand shop here, deploring the nation's declining academic standards.
"Most kids don't know how to write, don't know any history, and that's a disgrace," Mr. Fitzhugh said. "Writing is the most dumbed-down subject in our schools."
His mood brightens, however, when talk turns to the occasionally brilliant work of the students whose heavily footnoted history papers appear in his quarterly, The Concord Review. Over 23 years, the review has printed 924 essays by teenagers from 44 states and 39 nations.
The review's exacting standards have won influential admirers. William R. Fitzsimmons, Harvard's dean of admissions, said he keeps a few issues in his Cambridge office to inspire applicants. Harvard considers it "something that's impressive," like winning a national math competition, if an applicant's essay has appeared in the review, he said.
That reputation has always been bigger than revenues. Last year, income from 1,400 subscriptions plus charitable donations totaled $131,000 — about $5,400 short of total expenses, even though Mr. Fitzhugh paid himself only $18,000. This year, with donors less generous in the recession, Mr. Fitzhugh had to stop printing hard copies of the review, publishing its most recent issues only online, at tcr.org.
The term paper was once an important feature of American secondary education, requiring students to dig deeply and write at length. Mr. Fitzhugh said that most public school teachers have stopped assigning such papers — a shift that he attributed mostly to the fact that teachers have so many students and so little time.
Still, hundreds of earnest students send Mr. Fitzhugh papers every year, hoping to win his stamp of approval.
In the most recent issue, a senior from Montclair, N.J., writes of Theodore Roosevelt's tenure as a New York police commissioner; a New Orleans student profiles a 19th-century transcendentalist philosopher; and a senior from Seoul documents the oppression of Korean residents on a North Pacific island.
Pamela Ban was a junior at Thomas Worthington High School in Ohio when Mr. Fitzhugh picked her paper on Chinese economic reform for the summer 2008 issue. Researching it as an independent study project with her teacher, Mark McCort, Ms. Ban said, was a transformative learning experience. But it puzzled her classmates.
"They were in disbelief, like, 'Why would you want to do more work like that?' " said Ms. Ban, who now studies applied math and economics at Harvard.
Mr. Fitzhugh, a Harvard graduate himself, taught history for a decade at Concord-Carlisle High School in Massachusetts. When he started teaching in 1977, he was advised by colleagues to assign only short papers, five to seven pages — if at all.
But well into his teaching career, he received a high school sophomore's thoroughly researched, 28-page paper on America's strategic nuclear balance with the Soviet Union.
"That taught me I hadn't been asking kids to work as hard as they could," Mr. Fitzhugh recalled.
In 1987, he put up most of his modest savings to start publishing the review.
One of its earliest cheerleaders was Albert Shanker, the president of the American Federation of Teachers, who before his death in 1997 wrote at least two newspaper columns and personal letters to the National Endowment for the Humanities, the MacArthur Foundation, and Secretary of Education Richard W. Riley, extolling the review and urging them to provide it with financial support.
"We know that most of the youngsters in our schools don't write very much or very well," Mr. Shanker wrote to the endowment's president, Lynne Cheney, in 1991. "There are probably teachers who don't believe their students are capable of putting together a decent paragraph. The Concord Review shows them how much our students are capable of."
Another admirer was Arthur M. Schlesinger Jr., the historian.
"The Concord Review has done an extraordinary thing in providing an organ, a medium, for first-class papers done in high schools," Mr. Schlesinger says in a 2004 videotape that Mr. Fitzhugh has posted on the review's Web site.
Despite all the praise, Mr. Fitzhugh has never been able to put the review on solid financial footing.
One reason is that he has been unable to persuade more than just a few of the nation's 24,000 public secondary schools to subscribe, at $40 a year.
Some educators may see the review as a showcase only for an elite. All but four of the 22 essays published in the two most recent issues, for example, were by private school students.
But it was not always so. In the review's first decade, more than a third of the essays were from public school students. Mr. Fitzhugh said he would love to publish more from public school students, but does not get many exemplary submissions.
"It's not my fault," he said. "They're not doing the work."
He recently asked the head of a history department at a New Jersey high school if he assigned research papers.
"Not anymore," Mr. Fitzhugh quoted the teacher as saying. "I have my kids do PowerPoint presentations." Mr. Fitzhugh said he scoffs when some educators argue that research papers have lost relevance because Google has put so much knowledge just keystrokes away.
Researching a history paper, he said, is not just about accumulating facts, but about developing a sense of historical context, synthesizing findings into new ideas, and wrestling with how to communicate them clearly — a challenge for many students, now that many schools do not require students to write more than five-paragraph essays.
"I can't count all the lawyers who say their firms have organized remedial classes for all the associates who can't write," Mr. Fitzhugh said.
Mr. Fitzhugh's curmudgeonly personality may have driven away supporters. One who abruptly stopped giving was John Abele, the billionaire co-founder of Boston Scientific, who was donating nearly $200,000 a year in the early 2000s. Mr. Fitzhugh said he believed Mr. Abele had tried to replace him with younger leadership at the review.
A spokesman for Mr. Abele declined to comment.
In another episode, Mr. Fitzhugh persuaded the Albert Shanker Institute, a research group associated with the teachers' union that Mr. Shanker led, to finance a nationwide survey of public school history teachers in 2002.
About 95 percent of them said assigning long research papers was important, but 8 out of 10 said they never did because they had too little time to read and grade them.
During the survey, Mr. Fitzhugh said he quarreled with a deputy director at the institute, Burnie Bond. The institute paid the survey costs but cut off further collaboration and did little to publicize the results, which received scant coverage.
In October — eight years later — an organization of conservative academics whose president is a friend of Mr. Fitzhugh's reported the results anew on its Web site, arguing that the institute had "suppressed" them because they were "too awkward" for the teachers' union. Mr. Fitzhugh acknowledged that that was a misleading characterization of the events.
Ms. Bond said last week that Mr. Fitzhugh had been "so irascible he couldn't be worked with."
"Still, we think he's doing a good job with The Concord Review and in advocating for more writing in the schools," she said.
Now 74, Mr. Fitzhugh said he has so far been unable to find the right person to succeed him, and the review's future as an online journal remains uncertain.
But when he feels discouraged, he said, a new essay will often arrive, like, say, the 11,000-word paper that came in the other day from a student in Hong Kong examining the history of scientific inquiry in China.
Suddenly he is thrilled anew that the review has called forth impressive work from a young scholar on the other side of the earth.
"It's a great essay, and I can't wait to publish it," he said.
The New York Times, November 19, 2010
When editors at the University of California Press pondered the possible demand for "Autobiography of Mark Twain," a $35, four-pound, 500,000-word doorstopper of a memoir, they kept their expectations modest with a planned print run of 7,500 copies.
Now it is a smash hit across the country, landing on best-seller lists and going back to press six times, for a total print run — so far — of 275,000. The publisher cannot print copies quickly enough, leaving some bookstores and online retailers stranded without copies just as the holiday shopping season begins.
"It sold right out," said Kris Kleindienst, an owner of Left Bank Books in St. Louis, which first ordered 50 copies and has a dozen people on a waiting list. "You would think only completists and scholars would want a book like this. But there's an enduring love affair with Mark Twain, especially around here. Anybody within a stone's throw of the Mississippi River has a Twain attachment."
Farther upriver, at the Prairie Lights bookstore in Iowa City, Paul Ingram, the book buyer, said he initially ordered 10 copies, but they disappeared almost immediately.
"We are dearly hoping we'll get more copies in a couple of weeks," Mr. Ingram said. "I'm sure every bookseller in the world is saying, 'I should have been sharper, I should have thought this one through more carefully.' "
Earlier this week, the book was out of stock at a handful of Barnes & Noble stores in Chicago, Boston and Austin, Tex. On Borders.com, it is back-ordered for at least two to four weeks. Some independent booksellers said they had been told, much to their despair, that they would not receive reorders until mid-December or even January.
"It's frustrating," said Rona Brinlee, the owner of the BookMark in Neptune Beach, Fla. "In this age of instant books, why does it take so long to reprint it?"
Those who have been lining up to buy it seem to be a mix of Twain aficionados, history buffs and early Christmas shoppers who gravitate toward big, heavy classic biographies as gifts.
"It's totally the Dad book of the year," said Rebecca Fitting, an owner of the Greenlight Bookstore in Fort Greene, Brooklyn. "It's that autobiography, biography, history category, a certain kind of guy gift book."
Many booksellers said the memoir has a perfect holiday-gift quality: a widely adored author, a weighty feel, and a unique story behind its publication. (Twain ordered that the book be published a century after his death.)
Most of the content was dictated to Twain's stenographer in the four years before he died, at 74 in 1910. It is more political than his previous works, by turns frank, funny, angry and full of recollections from his childhood, which deeply influenced books like "Huckleberry Finn."
A younger generation of readers is discovering Twain for his political writings, Ms. Fitting said.
"He's surprisingly relevant right now," she added. "When you look at how much he wrote and the breadth of the subjects he wrote about, you know that if he were alive today, he would totally be a blogger."
Steve Kettmann, an American writer living in Berlin, said that he tried to buy a copy during a visit to a Borders in Orlando, Fla., but was told that they were sold out and would not receive more copies for four to six weeks. (He went to another Borders nearby, found two copies, and bought them both.)
"I just think that there's a feeling out there by a lot of people that Mark Twain is one of our greatest writers, and there's something particularly American about his combination of wit and insight," Mr. Kettmann said. "He was a wonderful showman. And he was cool, let's face it. That's part of it."
Alex Dahne, a spokeswoman for the University of California Press, said the book was the biggest success the publisher has had in 60 years.
The first print run of "Autobiography" was for 50,000 copies. Thomson-Shore, a small printer in Michigan that is producing the books, has been working overtime and is now producing 30,000 copies a week. To speed up delivery, the printer found bigger-than-usual trucks to carry books to warehouses in Richmond, Calif., and Ewing, N.J. — the trucks carry 10,000 copies instead of the usual 7,000.
The book will reach the No. 7 spot on The New York Times's hardcover nonfiction best-seller list to be published on Nov. 28, its fourth week on the list. On Friday afternoon it was No. 4 on the BN.com best-seller list, behind "Decision Points," former President George W. Bush's memoir; the latest "Diary of a Wimpy Kid," an illustrated children's novel by Jeff Kinney; and "Unbroken," a prisoner-of-war's story by Laura Hillenbrand.
"Autobiography of Mark Twain" received a huge lift from excerpts in Granta, Newsweek, Playboy and Harper's Magazine, and a burst of early media coverage this summer, well in advance of the official Nov. 15 publication date. The publisher created an eye-catching Web site, thisismarktwain.com, complete with audio, black-and-white photos and a timeline of Twain's life. (Two more 600-page volumes are planned.)
Edward Ash-Milby, a buyer for Barnes & Noble, said the book had already emerged as one of the hottest of the holiday season.
"I believe it has a certain cachet, a gift of quality that says a lot about the giver as well as the recipient," Mr. Ash-Milby said in an e-mail. "It's literary, but not too tough to read. The content, itself, is immensely readable, although nonlinear. It can be easily picked up and read in spots without the worry of plot lines or continuity."
Booksellers seemed to agree that the memoir, which has letters, diary entries, pictures and nearly 200 pages of "explanatory notes," is a book to be read in small bites.
"I've barely had a chance to look at it, but from what I did see, it looked like the kind of book you would never finish, and you would never even think of reading start to finish," said Mr. Ingram of Prairie Lights. "But it's the kind of book you would read a little bit of every day of your life."
While many booksellers were caught flat-footed by the intense interest in the book, others said they saw it coming. The book is currently available at Amazon.com and BN.com. At BookCourt, an independent store in Brooklyn, booksellers initially ordered 100 copies, the general manager, Zack Zook, said.
"We felt from the beginning that it was a title which our neighborhood would gravitate heavily toward," Mr. Zook said. "There's genuine interest there. It's been on our best-seller list now for weeks."
Powell's Books in Portland, Ore., ordered 600 copies and has already sold 500. Six hundred more books are on the way.
Ms. Dahne of the University of California Press said the publisher was rushing to get copies to bookstores and promised that they would be there in time for the holidays.
"We feel like, wow, America's kind of excited about a literary icon," she said. "There's something very sweet about the fact that people are interested in a 736-page scholarly tome about Mark Twain."


The New York Times
By ADAM MANSBACH
The hero of Homer's "Odyssey" is a modern man in ancient times, an eloquent outfoxer whose life is one long, furious act of self-invention. The embodiment of metis, or "cunning intelligence," Odysseus adopts false identities fluidly and fully, invites a god's wrath rather than let an act of cleverness go unknown, risks death to hear the ruinous songs of the Sirens because he cannot bear to let the opportunity pass.
The story of his 10-year journey home employs a narrative structure as complex as its protagonist and has inspired versions by writers as disparate as James Joyce, Margaret Atwood, and Joel and Ethan Coen. Now, into the tradition steps Zachary Mason with "The Lost Books of the Odyssey."
Mason's conceit, explained in a brief preface, is that his novel is a translation of a pre-Homeric papyrus comprising "44 concise variations on Odysseus' story that omit stock epic formulae in favor of honing a single trope or image down to an extreme of clarity."
It is true that more has been written and lost about the exploits of Odysseus than has been preserved, and Mason is on to something in suggesting that the Homeric version makes canonical what was once "formless, fluid, its elements shuffled into new narratives like cards in a deck." "The Lost Books of the Odyssey," though, would more plausibly have been excavated from the files of Jorge Luis Borges or the early drafts of Italo Calvino's "Invisible Cities" than from Mason's proposed "rubbish mounds of Oxyrhynchus."
The first "lost" book, "A Sad Revelation," begins at one of the story's pivotal junctures, the hero's return to Ithaca. In the Homeric version, Odysseus' house is overrun by suitors demanding that his wife choose a new king from among them, and the hero approaches cautiously, full of strategy and subterfuge.
Here, he picks up his sword, walks home and finds a man, "soft, gray and heavy," dozing before a fire. Penelope has followed convention and remarried. It is the least dramatic of all possible returns, and Mason captures the horror of this banal defeat. Odysseus reflects on the countless tableaus he has imagined in place of this one — a kind of Odysseus-as-Mason moment — then realizes that "what he sees before him is a vengeful illusion, the deception of some malevolent god." He flees gleefully, a vista of endless possibility opening before hero and reader both.
In "Guest Friend," the ruse by which Odysseus dodges assassination is less interesting than the Borgesian construct at the story's heart: "that each man lives out his life as a character in a story told by someone else." Silence is a mercy, granting quiet death to a distant stranger, and the mysteries of life might unravel if one could find one's teller.
"Agamemnon and the Word" is similarly cerebral; the leader of the Greek army commands his wisest counselors to write a book explaining the world. Over several lifetimes, the king insists on ever greater brevity, until at last he predictably orders a single word, which Odysseus delivers.
The power of language and the magic of storytelling are never far from Mason's mind. He delights particularly, and perhaps excessively, in inventing creation stories about the "Iliad" and the "Odyssey." In one chapter, they are scripts written by the gods and double as symbols of war's folly: "There have been innumerable Trojan wars, . . . each representing a fresh attempt at bringing the terror of battle into line with the lucidity of the authorial intent." In another, the books are chess manuals taken to an extreme of abstraction.
A pair of rather listless tales credit Odys seus himself. In "Fragment," he is a habitual sower of lies, one of which is set down as the "Odyssey," and in "The Iliad of Odysseus," a cowardly and cruel iteration of the protagonist — Odysseus as the Trojans of Virgil's "Aeneid" saw him — becomes a bard and distorts his minor misdeeds into heroic fare.
Mason's prose is finely wrought, but his chapters sometimes read like intellectual exercises masquerading as stories. It is when the emphasis shifts to exploring character and theme, and "The Lost Books of the Odyssey" engages more substantively with its source material, that the novel achieves real emotional resonance. In the haunting "Epiphany," Poseidon's wrath becomes a cover story for Odysseus' troubles. In truth, the affection of Odysseus' protectress, the goddess Athena, has reached its logical conclusion: she offers herself to him, with immortality thrown into the bargain.
Odysseus, feeling like "a child watching his father, incorruptible and immovable, beyond all weak human passion, dissolve into tears," rejects her and is forsaken: "I do not think she persecuted me — that would be beneath her — but I have felt her absence. . . . And I was reckless, after she left me, and I paid."
The final chapter, "Last Islands," is another success. An aged and restless Odysseus, not unlike the protagonist of Alfred, Lord Tennyson's "Ulysses," decides to retrace his path to Troy. The sites of his former glory are diminished, overgrown, and he accepts it with equanimity. Troy has become a tourist attraction, replete with actors costumed as heroes. There Odysseus finds peace, mediated by Athena and an ambiguous blend of feebleness and self-deception.
Mason's episodes are scattershot, as unearthed fragments tend to be, and yet there is a pleasingly programmatic under current to the variations he plays, as if he has devised an algorithm to chart the infinite arrangements of his narrative elements, then selected a few to render. His approach embraces all of Greek mythology, and the nuance and ingenuity of his riffs and remixes confirm his command of the material. He speaks as Achilles, the Cyclops Polyphemus and the loyal swineherd Eumaios; recasts the story of Persephone and Hades with Helen and Paris in the lead roles; makes Theseus a time-traveler; sends Achilles on a mission to conquer a decidedly un-Greek heaven.
Mason's repertory of Odysseuses is extensive — they are comic, dead, doubled, ghosts, amnesiacs — but when the need arises, he provides an exquisite Homeric version, dripping with metis. "I will make your friend there as alive as you are," the hero, referring to a dead Patroclus, assures a "clay simulacrum" of Achilles in "The Myrmidon Golem," a mash-up of Greek mythology and Jewish folklore. Then, true to his word, he kills the golem. An equally wily, voice-throwing Odysseus fools the Fates into giving him better than he deserves in "One Kindness." Such moments center the reader, fortify his reserves for the journeys to come.
Some are rocky indeed. At times, Mason's conceits go nowhere, and don't get there fast enough. The results are chapters missing the sense of purpose and play that animate the book's best efforts, chapters shrugged off the moment they end. "The Lost Books of the Odyssey" calls itself a novel, but Mason's approach is decidedly that of a short story writer, and he often hangs everything on a chapter's final lines — searing it closed with flashy twists more clever than satisfying, or cinching it together with tidy bows.
Even when he falters, though, Mason's imagination soars and his language delights. He is a writer much like his protagonist: prone to crash landings, but resourceful and eloquent enough to find his way home.






Following a London West End run in December 2007, a sold-out limited engagement at the Brooklyn Academy of Music in March 2008, and a subsequent eight-week run on Broadway, director Rupert Goold's gripping stage production of Macbeth was filmed for television at the end of 2009. Patrick Stewart in his triumphant, Tony-nominated performance as the ambitious general, and Tony-nominated Kate Fleetwood as his coldly scheming wife.
Watch the Full Program Here:

Beliefs in witchcraft and other occult forces are widespread in Africa, as they are in many other parts of the world. Animist beliefs consider death, disease, crop failure and other disasters not as natural occurrences, but as the result of the activities of supernatural powers. Families commonly consult traditional healers who divine the cause of the calamity. In some cultures, spirits are held responsible, while in others, individuals are identified as witches and blamed for the misfortune. Usually old and marginalized persons are scapegoated, but in recent years there have been increased reports of children, even toddlers, being accused of witchcraft in parts of Africa. Once accused of sorcery, children are forced to admit to being witches and to reveal the name of the "witch" that has passed on the evil power to them.
In the ensuing process of healing and restoring balance in the community, children accused of witchcraft are beaten, cut, burned, and sometimes killed. Many are chased from their communities. Stigmatized and unable to return to their families, they end up abandoned, on the streets of big cities. Kinshasa (capital of the DR Congo) alone harbours more than 20,000 street children who have been accused of witchcraft. In theCentral African Republic it is an offence to be a "witch" and prisons are full of children and adults accused of sorcery.
Claire was only 13 years old when she was accused by her brother of being a witch, beaten and tortured by members of her community, and brought to the police station. In the court of Mbaïki (a little town a hundred km from Bangui) she confessed to being a witch and was found guilty, sentenced to three years in prison. Instead of living in the main prison, she was sent to work at one of the guard's home. She was quickly suspected of practicing witchcraft and sent back to prison. Since the main prosecutor did not consider the prison to be a place for a child, she was sent to a nearby Catholic mission. Two years later, she was accused of witchcraft once again – this time by a novice in the mission who claimed that Claire was trying to devour her heart. She was brought back to prison.
Children accused of witchcraft number in the thousands in the DR Congo, the Central African Republic, southern Nigeria, and parts of Angola. Anthropologists have identified the combination of crises as the underlying cause for the epidemics of witchcraft accusations against children. Economic hardship, conflict, urbanization, displacement, family breakdown and HIV/AIDS have spread insecurity in large parts of Central Africa and have profoundly undermined many communities. In parallel, revivalist and Pentecostal churches have proliferated in many parts of Africa, offering spiritual stability in times of uncertainty.
Some of these churches, run by unscrupulous preachers and self-appointed prophets, have seized upon the fears of the population and are offering exorcism services at exorbitant costs. These rituals subject children to further violence and abuse and have become a lucrative business for some pastors. In Nigeria's Akwa Ibom State in the Niger delta, the explosion of witchcraft accusations against children have been traced back to a film produced by a prominent priestess, which has fuelled popular beliefs in child witchcraft.
At the dawn of African independence it was widely assumed by modern elites and by development agencies that formal education, media, monotheistic religions, economic development and democratic political systems would sweep away traditional African beliefs. Instead, as the case of witchcraft accusations against children shows, traditions are being reinvented and adapted to the challenges and insecurities of a globalised world.
Since the phenomenon of accusing children of witchcraft emerged only within the last 10-20 years (and in Nigeria more recently), there is hope that it has not yet become deeply entrenched. Even if the belief in witchcraft continues, Unicef believes it is no justification for the abuse of children's rights.
From a child protection perspective, witchcraft accusations against children are a form of child abuse. Each "outbreak" of witchcraft accusations has to be studied in order to understand its origins and the forces and interests in society that drive it. Raising public awareness is an important part of prevention, as is the mobilization of church groups, the police and the justice system, as well as traditional healers to take decisive action against the maltreatment of children. Effective support for abused and abandoned children requires functioning child protection systems that ensure children's access to psycho-social, health and educational services, and to justice.
guardian.co.uk © Guardian News and Media Limited 2010
Thursday, August 5, 2010
When he isn't impersonating Homer and the other Simpsons, Rick Miller can be a pretty serious guy. You wouldn't know that from "MacHomer," which Miller has brought back to California Shakespeare Theater this week. His tour de force of Homer playing Macbeth, Marge as Lady Macbeth and Bart, Lisa, Ned Flanders et al (plus special guests, like "Sesame Street's" Kermit) performing "the Scottish play" is a hilarious diversion (pizza and beer included at late-night shows).
But Miller's other solo shows include "Bigger Than Jesus," a comic but seriously provocative look at religion he brought to Cal Performance in '06, and "Hardsell," which he describes as "about the religion of marketing." An architect and artistic director of the multidisciplinary Wyrd Productions, the 40-year-old Montreal native is also a frequent collaborator with Canadian performance icon Robert Lepage.
Miller has been touring lately with "Lipsynch," a nine-actor, nine-hour Lepage epic. He's also developing a new solo with Lepage called "Speer," about Hitler's architect during his 20-year imprisonment. We reached him at home in Toronto, "taking a break from my vacation" and "heading back to my family for two more days of a lakeside holiday" before going back on tour.
Q: This is the show's third time here?
A: That's right. It's my favorite venue because the amphitheater is so gorgeous. As it turns out, this is the first leg of the show's 15th anniversary.
Q: Where else will you be taking it?
A: "MacHomer" tours sporadically, partly because I don't like to perform it straight on for months, but also because I have to fit in all my other projects. The next leg will be a few dates in October and November, then a few more in February and March. It's like a Bob Dylan tour in that it never quite ends.
Q: It started as a party sketch?
A: It was a joke for the rest of the cast. I was cast in "Macbeth," in the coveted role of the Second Murderer. That led to a lot of time backstage during which I concocted this little joke to show off and have fun.
Q: And you've been doing it since 1996?
A: Correct. The first performance was in '95, a handful of shows at the Montreal Fringe Festival, but that was a very basic version with a few slides and me at a mike stand. Now the silly concept of one dysfunctional family does another one has been I guess pushed to its extreme.
Q: How has it changed?
A: It tends to evolve in stages. Luckily, I'm able to tinker with it quite a lot. Since the last time in Berkeley, there have been a few script and image and sound changes. I believe there's a new song at the end. The dramatic change happened in 2000 when it went from a comedy sketch to more of a theater production. That was a complete overhaul to turn it into a play I could feel comfortable touring the world with, as opposed to just playing the odd college.
Q: Is Kermit still in it?
A: All the cheap jokes are still there. It's gratuitous entertainment. I think I have a love-hate relationship with the show. I liken it to an old drinking buddy I get back together with for some meaningless fun. Yet someone in Belgium just wrote a master's thesis on it. It's spawned quite a bit of scholarship, oddly enough.
Q: What do you think it tells us about "Macbeth" or Shakespeare?
A: I can't say it really comments on "Macbeth." I think the reason it's popular with schoolteachers is it brings Shakespeare to a level of popular culture he enjoyed in his own time. He wasn't highbrow then. He was entertainment for the masses as well the nobility. I think teachers find this show valuable as a way to break through the language barrier that keeps kids from appreciating Shakespeare.
Q: What does it tell us about ourselves?
A: Oh, I think we see ourselves reflected in "The Simpsons" quite a lot, and I think "MacHomer" taps into that by throwing those characters into a tragedy. Suddenly you've got Barney Gumble, the drunken barfly, playing Macduff, whose family gets slaughtered. It has an impact. I don't know what it says about us, but it demonstrates I'm working with really good source material.
Q: So, is "MacHomer" bigger than "Jesus"?
A: You know, it's amazing the difference between what John Lennon was trying to say and what people thought he was saying. But anyone who makes his way onto boxer shorts has done pretty well, and Homer and Jesus have both crossed that threshold.
MacHomer: Created and performed by Rick Miller. 8 p.m. today-Sat., 10:30 p.m. Fri.-Sat. California Shakespeare Theater, Bruns Amphitheater, 100 California Shakespeare Theater Way, Orinda. $20-$40. (510) 548-9666. www.calshakes.org.
E-mail Robert Hurwitt at rhurwitt@sfchronicle.com.
http://sfgate.com/cgi-bin/article.cgi?f=/c/a/2010/08/05/DDGG1EM3BC.DTL
This article appeared on page F - 2 of the San Francisco Chronicle
August 12, 2010
By ELIZABETH LESLY STEVENS
For any director, putting on a full-scale "Hamlet" is notoriously intense.
But 29-year-old Ava Roy has it tougher than most. Ms. Roy, an Oakland-based actor and artistic director of the We Players theater troupe, has devoted nearly two years to pulling together the logistics, resources and cast for a production now in rehearsals on Alcatraz.
Her "Hamlet" is being staged using the entire island, including many areas of the former prison normally off-limits to visitors. The audience will move all over Alcatraz with the actors, following Shakespeare's tragedy as it unfolds. Many scenes will also be visible to the thousands of tourists who visit the island each day.
As Hamlet and Ophelia rehearsed their grueling nunnery scene on Aug. 5 in a normally off-limits part of the decrepit prison hospital, all endured bone-chilling cold and concentration-shattering interruptions by tourists attracted by Ophelia's sobs.
Besides the cold and the tourists, Ms. Roy must also plan the production around the gulls and cormorants that nest on the island. Some scenes cannot be rehearsed until the birds relinquish their territory just two weeks before the play's opening on Oct. 2.
An intrepid sailor — she sailed for five months to Mexico and Hawaii in spring 2009 — Ms. Roy says her time at sea prepared her for these challenges.
"You use what you have. You just deal," she said about life on a boat. "There is no illusion of being in control."
Ms. Roy founded We Players in 2000 as a Stanford undergraduate and has been staging site-specific theater in the Bay Area, usually classical works, ever since. "Hamlet," with a cast and crew of about 50, is by far her biggest undertaking, with a run of 25 performances over seven weeks. Its budget is a slim $58,000, and all involved are volunteers — except the stage manager.
The play will begin on the ferry to the island where the actors and audience will share a special area of the boat. Musicians will perform pieces inspired by prison work crews and chain gangs, riffing on the buoy bells, howling wind and other sounds of the island to produce music that will propel the audience from scene to scene, Ms. Roy said.
Ms. Roy was invited to be the first artist-in-residence on the island in November 2008 after Amy Brees, the National Park Service's Alcatraz site supervisor, saw her production of "Macbeth" at Fort Point, the Civil War-era brick-and stone structure tucked under the Golden Gate Bridge.
That "Macbeth," with its closing sword fight on the roof, bridge footlights casting stark shadows and a full moon in the distance, was "the most amazing theater I had ever been to in my life," Ms. Brees said.
"The Park Service is interested in provoking people to think about these places and their meanings," she said. "At Alcatraz, those themes are justice, punishment, crime, redemption."
Ms. Roy, a native of Lenox, Mass., has lived in the Bay Area since her years at Stanford, where she designed her major around interests in religious drama, ritual and the aesthetic foundations of education.
She staged the first We Players production, "Romeo and Juliet," at Stanford in spring 2000, with the opening fight between the Montagues and the Capulets set in the student cafeteria.
On her first visit to Alcatraz in late 2008, Ms. Roy said she immediately envisioned presenting "Hamlet." But "I would push it back as too obvious," she said. "But it usually works to trust gut instinct.
"I knew I had to do something I could succeed at in a very visible location. 'Hamlet' had the gravity and structure to support me."
("Hamlet" will be the second act of her residency. Her first production, in fall 2009, was a more traditional production of "Iphigenia and Other Daughters" by Ellen McLaughlin. Her residency will culminate with an as-yet-undetermined event in 2011.)
The Park Service does not give Ms. Roy or the We Players financial support. For bureaucratic reasons associated with being a volunteer organization on Park Service land, the troupe cannot charge for tickets. Instead, free tickets — 100 per performance — can be reserved starting in mid-September via the weplayers.org Web site. The company hopes that a suggested donation of about $60 will allow it to recoup production costs and distribute any profits among the cast and crew.
"This is not just a cool place" to stage a play, Ms. Roy said. "Theater is a tool for interpretation, to dig in and explore the entrenched themes and issues of the space."
Her hope is that long after the actors and musicians putting on "Hamlet" leave Alcatraz , the work "leaves residue in the space and mind's eye of the people who were part of that."
Reduced Shakespeare Co. speaks (briefly) via Twitter
By James Hebert, UNION-TRIBUNE THEATER CRITIC
Wednesday, June 9, 2010 at 6 p.m.
Hey, we've got more than 140 characters to play with here! The Reduced Shakespeare Company: Reed Martin (left), Austin Tichenor, Matt Rippy.
DETAILS
"The Complete Works of William Shakespeare (Abridged)" by Reduced Shakespeare Co.
When: Opens tomorrow. Fridays, 8 p.m.; Saturdays, 2 and 8 p.m.; Sundays, 2 p.m., through June 20.
Where: San Diego Rep's Lyceum Theatre, 79 Horton Plaza, downtown.
Tickets: $25
Phone: (619) 544-1000
Online:sdrep.org
The Reduced Shakespeare Co. condenses 37 Shakespeare plays into one madcap 97-minute performance. Twitter condenses endless human conversations into occasionally coherent 140-character messages.
It was inevitable, then, that the two would hook up. Writer-performer Austin Tichenor, the company's "Twit in Chief," is an inveterate Tweeter (username @Reduced) who has chatted about the practice on National Public Radio.
And yet somehow, he and fellow RSC principal Reed Martin (@ReedofRSC) had never done a "Twitterview" — an interview conducted entirely via Twitter. With the Reduced crew coming to San Diego Rep this week, the time seemed right to fix that little oversight. Here, an excerpt from our recent chat. Caution: It's not Shakespeare. (It's shorter.)

@jimhebert First, I'd like to know what's in your pantry. Condensed milk? Potato flakes? Freeze-dried ice cream?
@Reduced Condensed milk. Beef broth. Joe O's.
@jimhebert Have to ask: If Bard were alive today, would he be OK w/ Reduced? Or would he just be too old (446 years!) to care?
@ReedofRSC If Shakespeare were alive today, he'd be kicking and screaming inside his coffin.
@Reduced Shakespeare liked to put rear ends in seats. He'd be thrilled. (Not sure he could stick to 140-character limit, tho.)
@jimhebert As I recall, your show spends a lot more time on "Hamlet" than others. Is the Great Dane too hard to abbreviate?
@ReedofRSC Hamlet's the greatest play of all time, so we thought to do it justice we should at least devote 40 minutes to it.
@Reduced "Hamlet's" THE GREATEST PLAY EVER WRITTEN, so naturally it'll take at least 20 mins. to reduce. Respect.
@jimhebert Well said. Maybe THE GREATEST PLAY EVER WRITTEN should be performed in all-caps. Do you know how many times "Complete Works" has been produced?
@Reduced Thousands? Millions?
@ReedofRSC We ran the show in London for almost 10 years, six shows a week. That alone is about 3,000 performances.
@jimhebert You also condensed five seasons of "Lost" into a 10-min. film. Shouldn't you be canonized? Or at least knighted?
@ReedofRSC When I was with Ringling Bros. Circus there was an acrobat who was "canonized" every performance. Literally.
@jimhebert Ringling Bros.? Seriously? Were u a clown? Not a bearded lady ...
@ReedofRSC Yep, clown and assistant ringmaster. Played the White House, Madison Square Garden and the Oklahoma State Fair.
@hhmcsharry (a guest Tweeter from Connecticut): I was in an abridged/edited form of "Complete Works" in fifth grade.
@Reduced Fifth grade was the happiest three years of my life.
@jimhebert I wonder what the Bard's hash tag would've been. #AvonCalling?
@Reduced #YesIWroteThePlaysGetOverIt
@jimhebert Did you know you were scheduling here next to the Old Globe's Shakes-fest, run by Adrian Noble — ex-chief of that OTHER RSC? (Royal Shakespeare Co.)
@ReedofRSC That upstart English company that stole our initials?
@Reduced Rumble in the parking lot!
@ReedofRSC I performed at the Old Globe in 1985. "Midsummer" directed by Jack O'Brien and "Richard III" directed by John Houseman.
@Reduced And I drove past it once.
Find this article at:

 
http://www.signonsandiego.com/news/2010/jun/09/the-bard-further-condensed
APRIL 30, 2010, 

11:37 AM
By 
DAVE ITZKOF
F, New York Times
3:26 p.m. | Updated 
A United States appeals court on Friday vacated a lower court's order to enjoin the publication of a novel described as a sequel to J. D. Salinger's "Catcher in the Rye." The appeals court sided with a district court's judgment that Salinger's lawyers would probably prevail on the merits but sent the case back to that lower court to re-evaluate whether the injunction should be ordered.
In July, a United States District Court in Manhattan banned the United States publication of "60 Years Later: Coming Through the Rye," a novel by "J. D. California," a pseudonym for the Swedish writer Fredrik Colting. The novel, which centers on a 76-year-old character named Mr. C, does not mention Holden Caulfield by name, but the connection between Mr. C and the frustrated teenage protagonist of "Catcher in the Rye" was unmistakable, and lawyers for Salinger successfully argued that "60 Years Later" represented an illegal violation of the author's copyrights. Salinger died in January at 91.
In arguments presented to the United States Court of Appeals for the Second Circuit in New York, lawyers for Mr. Colting said that the lower court's injunction was an unconstitutional prior restraint on free speech and conflicted with the decision of the Supreme Court in the 2006 case eBay Inc. v. MercExchange L.L.C. In that case,the court ruled unanimously that a four-part test must be employed by a court to determine if a patent has been violated before an injunction can be issued. The tests warrant, for example, that a plaintiff show irreparable injury and that the public interest would not be disserved by a permanent injunction.
In its decision [.pdf file], the appeals court did not rule on the prior restraint question and remanded the district court's injunction so it could apply the four-part test. Edward H. Rosenthal, a lawyer for Mr. Colting said: "We're very pleased that the Second Circuit has confirmed what we're arguing, which was that courts have to be very careful before they issue injunctions to stop books. We intend to continue to argue that the injunction's improper here, and it's important for this book to be made available to the public and read." Mr. Rosenthal said the Salinger heirs had 10 days to keep the injunction in place.
In a statement, Marcia Paul, a lawyer for the plaintiffs, wrote:
We are heartened that the appellate court agrees that Mr. Salinger's literary trust is likely to prevail on the merits of his claim and that this book infringes his copyright in The Catcher in the Rye. His son and widow believe that the best way to preserve and protect Mr. Salinger's work, as well as the rights of all creators and disseminators of intellectual property, is to vigorously pursue this case, following the road map the Court laid out in its opinion, to establish that the damage that will be caused by publication of this unauthorized sequel cannot be made whole by money, and that an injunction against its publication is both necessary and in the public interest.