Horror master jumped at request to write introduction for new, anniversary edition of Lord of the Flies, says publisher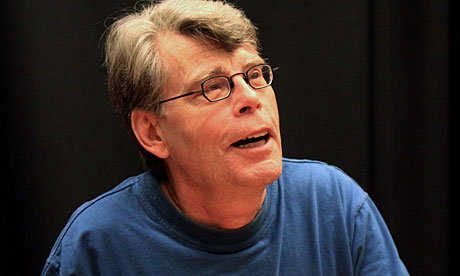 Stephen King's new introduction to William Golding's Lord of the Flies has been warmly received by publishers Faber & Faber. Photograph: Taylor Hill/FilmMagic
Both are famous for chronicling the darker side of adolescence, but where William Golding won a Nobel prize for his work, so far Stephen King has had to settle for bestsellerdom. Now King is writing a new introduction to Golding's seminal novel Lord of the Flies, as part of celebrations later this summer to mark 100 years since Golding's birth.
King rarely contributes introductions but, said publisher Faber & Faber, jumped at the chance to write one for Lord of the Flies when he was approached. The bestselling horror writer named Castle Rock, the fictional Maine town which features in many of his books, after the area that Jack makes his fort in Golding's novel, while a copy of Golding's book plays a role in King's novel Hearts in Atlantis.
"The dark powers of childhood are what King has been so interested in writing about," said Hannah Griffiths, who is publishing the book for Faber in August. "We only approached him because we knew he loved the book – writers like him must get 50 requests a day. [But] he was back on email really quickly and said 'I don't do a lot of these but this one I've got to do'."
King delivered his introduction ahead of deadline, and has written about how he first came across and read Lord of the Flies as well as giving his critical perspective on the novel. "It's quite autobiographical," said Griffiths, who described the introduction as "beyond my wildest dreams". There are "so many boring combos" of authors and introductions out there, she added, but King and Golding "is just the best combination of writers ever".
Faber hopes the new introduction, and a fresh look for the book, will send Lord of the Flies to the top of the book charts again, 57 years after it was first published in 1954. "We sell a lot of copies every year of Lord of the Flies [but] our goal in July is to make it a bestseller again," said Griffiths.
The publisher is also marking the centenary of Golding's birth with a new edition of his novel The Inheritors, with an introduction by John Carey, as well as a memoir by his daughter Judy Golding, The Children of Lovers, which is published in May. In addition, it will open its archives for a Golding exhibition this autumn.
guardian.co.uk © Guardian News and Media Limited 2011